200W Peak Power Station, Flashfish CPAP Battery 166Wh 45000mAh Backup Power Pack 110V 150W Lithium Battery Pack Camping Solar Generator for CPAP Camping Home Emergency Power Supply
4.5
stars, based on
2
reviews
Price:
$159.99$119.99 / set
Why cheaper than Amazon?
Because no commission from Amazon
Worry about the warranty and after-sales service?
Warranty:24 months after sales technical service and 12 months quality assurance
After-sales service: full support and communicate from our website, and we will answer & offer same service from our Amazon' shop


Wide Application: Our 166Wh portable generator is provided with three outputs: two 110V AC outlets charge CPAP machine/tablet/laptop/ camera/drone/ fan etc, three USB ports (2 of them are quick charge ports) help for smart phone/ ipad/GPS and any electronic devices, and two DC ports can be used for vehicle tools like car cleaning and type replacement; Suitable for travel camping, fishing, outdoor activities, medical care and any emergency situations.

Specific Features: With 45000mAh capacity, pure sine wave, 150W AC continuous power and 200W AC peak power, this power supply pack is able to more stably charge a number of devices for many times; Compact and lightweight design (only 4.5lb) make it more convenient taken outside.

3 Ways to Recharge: There are 3 options for you to recharge the large-capacity power bank: the wall outlet, solar panel (not included in package) and 12V car socket. And their accessories like power adapter, cigarette lighter adapter and car charger are all included in the package.KINDLY NOTE THAT THE POWER STATION CAN NOT BE CHARGE AND USE AT THE SAME TIME.

Safety Performance: This power station is provided with overheat protection, short-circuit protection, low-voltage protection, lock-on protection, over-voltage protection and over-current protection which prevent your devices from damaging and make you use it at ease.

Portable Power Source: Simple to use, there is a power button on the middle to turn on the generator, so you won't be pulling any ripcords to turn on it; it will allow you to camp and recharge power without running a noisy, super cool product for your outdoor camping and travel.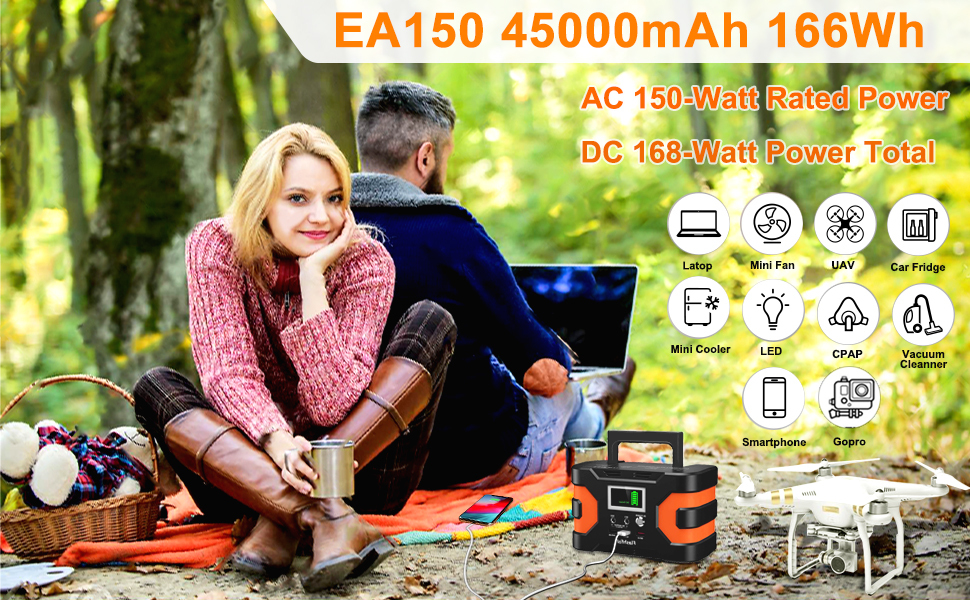 Let The Flafhfish EA150 As Your Reliable Power Station For Outdoor Adventure & Power Outage!
Flashfish EA150 portable power station is a trusted power source for both indoor use and off-grid outdoor activities like camping, hunting, fishing, outdoor party and music festival. It can also provide emergency backup power source (for lighting, communication during power outages).
FAQ:
Q1: What devices can Flashfish EA150 power?
A: Please note that the AC output port can charge devices less than 150W, DC output can charge devices total less than 120W; Once exceeding, this portable power generator will be in protection mode. We need to charge it by wall charger to reset it.
Q2: How to calculate the working time for your devices?
A: 1. AC output working time=166Wh * 0.85/the power of your device
For example, assume your power of device is 20W, working time will be 166Wh * 0.85/20w=7 hrs ( rough calculated )
2. DC and USB output working time=166Wh * 0.95/the power of your device
Q3: AC and DC output, which way is best to power my CPAP machine?
A: Yes, for Optimal Use with CPAP.Flashfish EA150 power station can power your cpap by two ways: 110V AC plug and 12V DC plug.Strongly recommend that CPAP users use DC to DC converter to work with this unit and turn off or remove the heater/ humidifier, it should last longer.To buy the DC converter, please consult with your CPAP supplier or simply find us for a guide.Same as others, like laptop, use DC output will be longer than AC output.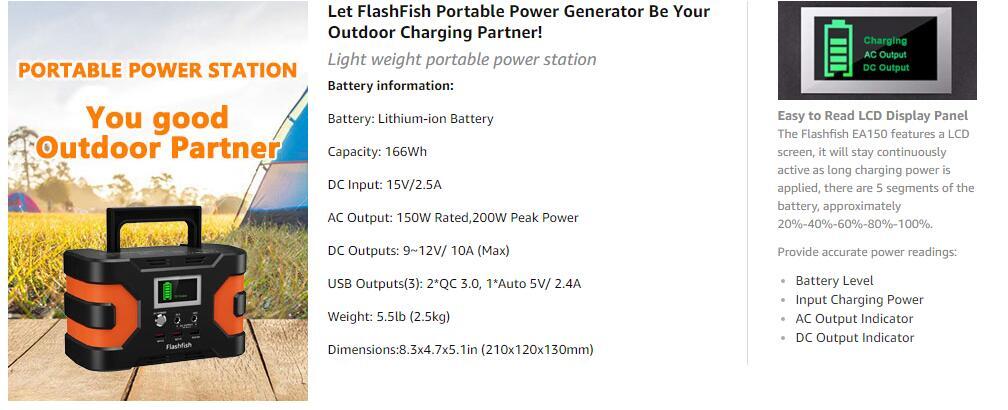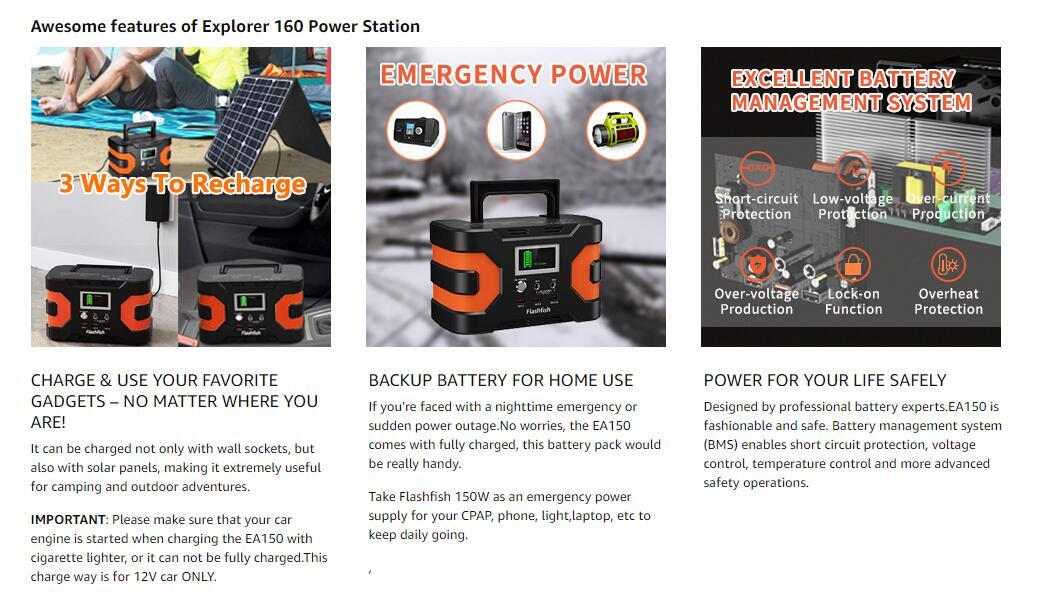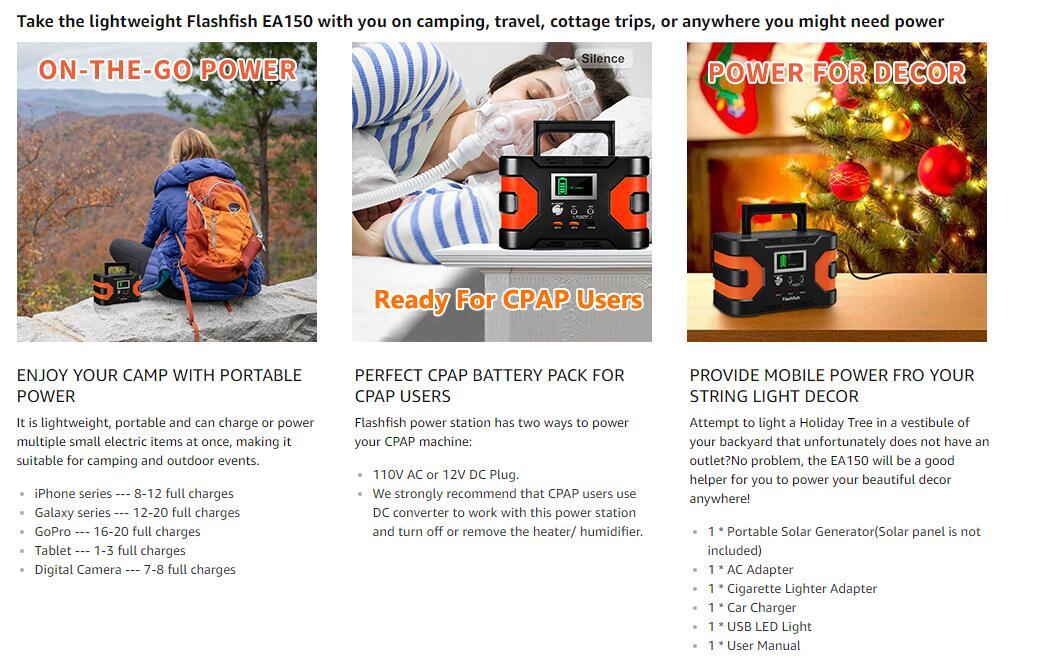 ByJoeThursday, 16 July 2020
why didn't tell me I can buy here ealier? so only 4 star
ByOstap DoubasThursday, 23 April 2020
I am a big fan of having a dinner outside and camping in the forest - this thing is a life saver. I remember back in the days there were no electronics and everybody were enjoying their time around the fire. Now times have changed and we use the generator to recharge our smart devices and power electric appliances.